The sound of signing up for an ADT home security system yearly contract can be a bit intimidating. I know it is for me, but I still do it because the reward is greater than the monthly cost of the contract. (As I sit here wincing at the next contractual monthly payment on my smartphone bill). I called an ADT agent as a potential customer (because I am) and asked a bunch of questions on your behalf, because it is important to know what we are signing up for and what options you have available to you.
Quite frankly, these are questions that bug me anytime I start reading the FAQs section of anything I am about to purchase, and most of the answers to the questions I had were not readily available on ADT's website. Rest assured, an ADT home security system will take care of you on both the security and customer service front.
Overall Rank: 8.5/10
Product Description: ADT is a Home Security Monitoring Service that provides total on-call wireless security for a home or business.
Pros: Tier 1 equipment and lifetime guarantees
Cons: Vague equipment costs and high monthly plans
Monthly Cost: Starting at $39, up to $59
Upfront Costs: Starting at $850, dependent on available discounts, and extra equipment needed to cover the home.
Best Place to Buy: ADT Corporate
Guarantee: Lifetime Guarantee on Equipment
ADT Home Security System – The Basics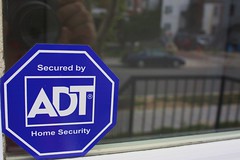 The ADT home security system has been around for over 145 years and has owned the home security market during this time. Many other companies have come up to challenge the leader. ADT still holds the title for best home security system on the market, but how long will it hold up?
When considering which home security system to chose, think about the upfront costs and monthly bill. I have come to the conclusion that you do not know exactly how much you will be paying until you have a technician in your home installing the system. The agent and even the online websites are vague on exact pricing, which is quite frustrating. I had one ADT agent tell me the equipment had to be paid upfront, and another tell me it is financed over the 36 month contract you sign. I can tell you however, that I wouldn't be surprised if a normal first month is on average about $800.
The basic ADT plan for $39/month comes with:
24/7 Monitoring

2 door and 3 window sensors

Keypad

Key Fob

High Decibel Alarm Siren

Infrared Motion Detector

Yard sign and window decals
And you know why it is going to cost so much up front? Because who only has 3 windows in their home? You will most assuredly be paying for more equipment to get total coverage around the home. Statistics have shown that a burglar is less likely to break in to a home if they know it is being watched. Sometimes those decals are just a gimmick. I would not put the safety of my family on the trust of a decal sign.
The basic equipment is enough to warn you of an intruder, but not enough to protect your home from the elements. You have to pay extra for smoke detectors, carbon monoxide detectors, and flood detectors. This will start to add up quickly, so be prepared for high upfront costs, or an increased monthly bill. All this equipment is available for use on the basic plan, and these detectors are monitored along with the door, window, and motion sensors.
ADT vs Authorized Dealer
In my research, I quickly found out that there is a lot of conflicting information online about prices and guarantees through the ADT home security system website. This is largely due to ADT's Authorized Dealer program. ADT claims themselves to be a non-soliciting company, so they let their Authorized Dealers launch out the promotions and warranties that you might see in the newspaper.
This is a common practice in the business world to allow a third party to carry the business name. By allowing Dealers to carry their name and product, ADT has expanded to many parts of the country and servicing even remote towns on the edge of cell service.
This review has to take place solely on the provider (ADT Corporate) as there are too many dealers with different programs going on. Any customer is allowed to go directly to ADT for their service and not through a Dealer. There are great benefits to this, but also some drawbacks. (Check out my other lists of home security monitoring companies. to compare).
One important thing to remember here is that ADT still does ALL the monitoring of your home. The dealer only supplies the equipment and customer service. ADT will always, regardless of who you choose to purchase a system through, monitor your home.
Authorized Dealers will have different pricing plans. Some of them even offer the equipment for free when you sign up. As I said before, I cannot speak in the review to those dealerships quality of service, but you need to know why there is so much conflicting info online.
Cost Vs. Quality
Putting all of these things aside, look at the quality of the ADT system and compare it to the monthly cost. The equipment that is supplied on the basic level, assuming you purchase a sensor for every door and window, is more than adequate to protect your family from a break in. Cameras are not always necessary, but they do add an unrivaled level of security to your system.
When you are sleeping at night and a fire breaks out, ADT and the authorities will be notified before you are aware of the fire.
If carbon monoxide builds up due to a gas leak, before it can affect your family, ADT and the authorities will be notified. This is critical especially if you are sleeping.
These are invaluable assets to have in your home and offer the best security for your home and family. I know the upfront costs are a but high. If you were planning on purchasing the equipment and compiling your own system, I do not believe you would be saving much money upfront.
The value really comes down to what you pay each month for monitoring services. Do not make your decision solely on the cost of equipment. ADT offers only Tier 1 equipment which is going to cost a little more. As I had mentioned in an article previously, you get what you pay for.
ADT also has great perks to consider like their theft insurance guarantee. They will cover up to $500 of your insurance deductible in the event of a break in. The company also has a 6 month money back guarantee. If you are not satisfied with anything that ADT is doing, they will refund all your money in that 6 month time period.
The Q & A
WIthout further ado, I will list the Q & A session that I had with an ADT agent over the phone. There is a lot more I can write on, but the Q&A covers most of it. This agent was extremely helpful, and was extremely responsive with his answers. It was obvious he knew what he was talking about. Keep in mind some of these answers are my own through research I did online and are not from the agent. This is a little long, but I wanted to be thorough!
---
Q: Does the basic plan come with a camera?
Answer: No. You must sign up for the premium plan to enable cameras. You have to purchase the cameras upfront, but you can add as many cameras as you like and it will not raise your monthly bill.
---
Q: How long is the contract?
Answer: 36 months
---
Q: What are the early termination fees?
Answer: If you are moving, there are no termination fees, just stay with the ADT plan and an agent will be happy to uninstall and reinstall in the new location. If you do cancel, the fee is 75% of whatever is left on the contract. So if you have 3 months left to go on the 36 month contract, and your monthly bill is $50, the fee is $112.50. (3 months x $50 x .75 = $112.50)
---
Q: If I cancel my plan, do I return the equipment? What if the equipment is paid for?
Answer: Even if the equipment is paid for, it stays with the home, and will not be monitored or functional. If you are moving, a technician will install a new system in the home you are moving in to.
---
Q: Will pets set off the alarm system?
Answer: The motion detectors are designed to allow pet movement up to 80lbs, but if you have larger dogs or the system keeps tripping due to multiple animals, ADT can up the weight limit.
---
Q: Is financing of equipment available?
Answer: (I was told yes and no, so you will have to call and verify yourself when you are getting a quote).
---
Q: Once the alarm is triggered, how are authorities notified?
Answer: It is completely up to the customer how they want the authorities notified. ADT can call the police immediately and then follow up with the homeowner, or ADT can verify with the homeowner first and then call the police if the homeowner needs them. Either way, ADT will always attempt to call the homeowner in the event an alarm is triggered.
---
Q: If the alarm is set off accidentally, do I call ADT or the police?
Answer: If ADT has not yet called the homeowner, the homeowner should call ADT as soon as possible to stop the alarm.
---
Q: How much is it to sign up the first month?
Answer: There are many factors that play in to the upfront costs and monthly bill. It first relies on what equipment the homeowner wants installed. The basic equipment package starts at $850, but can go up from there if more sensors are required. The monthly bill is determined on the telecommunication system as well, if it is cellular or landline. Landline is cheaper, but if you take in the cost of having a landline, it typically breaks even with cellular, or WiFi.
---
Q: Are equipment costs included in the monthly bill stated online?
Answer: There are promotions from time to time that allow you to install a security system with no upfront costs, essentially giving you the system for free. Many of those promotions are through authorized dealers and not always with ADT. The majority of the time, equipment costs are paid up front. The monthly bill you pay does not change in regards to how much equipment you have installed.
---
Q: How much is it to purchase more equipment?
Answer:  The equipment costs will vary from ADT to dealer to dealer depending on promotions or sales that each company may have going on. (Based on the research I did online, I was able to find some ADT cameras on sale for about $250 each. That should give you a ballpark idea as it is completely up to the technician that is installing the system. The tech might give you a bundle deal if you purchase two or more. The agent did tell me that a door sensor is around $50).
---
Q: What are the warranties on equipment?
Answer: All equipment has a lifetime warranty and is replaced free of charge for as long as you are a customer with ADT. All equipment is top of the line Tier 1 equipment.
---
Q: Is it DIY install or professional install?
Answer: All systems can be installed yourself or through a professional tenured agent with over 10 years of experience. All agents are qualified with a federal background check and rigourous hiring process to insure your families safety when allowing someone in your home.
---
Q: Can the system install with existing systems in place, like smoke alarms, etc?
Answer: ADT systems can only be used with ADT equipment. Smoke alarms and all other equipment is wireless to make for a quick and painless install.
---
Q: Do you offer a certificate of monitoring I can submit to my insurance company?
Answer: Once an ADT system is installed and the customer has signed the contract, a Certificate of Monitoring is given to you to submit to your insurance company. It is up to your insurance company if they will honor a discount on your behalf, so be sure to verify ahead of time.
---
Q: What are the benefits of ADT Corporate vs an Authorized Dealer.
Answer: ADT Corporate offers tenure incentives for long term customers, such as credits for new equipment for moving and such. Dealers do not have access to some of the newest equipment that ADT offers. ADT technicians are highly trained professionals and have gone through rigourus background checks. ADT can not speak to the Dealers technicians.
---
Q: Does ADT service every home?
Answer: If you live out in the boondocks, ADT probably will not be able to send a technician, but as long as the home has some a cellular connection of some form, a homeowner can install a DIY system and it will work just the same and ADT will be able to monitor your home.
Phew! I hope that was everything.
Do Your Home Security Research
In the end, you will need to call each dealer and ADT corporate themselves to get the best deal you are looking for. I know for a fact that you cannot lose by going directly through ADT. You may have to invest in it depending on the promotions they have available.
I rated ADT at 8.5/10 for two reasons:
The costs for plans and equipment are extremely vague

Cameras are only available on the highest tiered plan
I understand there are a lot of variables at play, and they only want to provide the best custom packages for each homeowner, but I believe cameras should be standard equipment, even if it is just one camera for the front door.
Equipment costs should be readily available online.
With the costs aside, ADT Corporate is one of the best in the industry. They have dialed in the home security monitoring network and have the best equipment and guarantees on the market.
What do you think? How does ADT compare to the systems you have installed in your home, if you have them?